Any payment industry needs customers, as well as our project demands your collaboration.
We are happy to present our community bounty program that will go on from 1st of August 2018 until 31st January 2019.
Let's share the news and make the revolution in mutual fund industry together!
We need community support, so we're launching this bounty campaign for everyone who wants to join and help us revolutionize the crypto mutual fund industry.
Joining our official Telegram is a must for all participants in Zigi bounty campaign.

To get your reward,
reports with proof-links of your work have to be sent to
rewards@zigicoin.com within every Sunday.
Reward sheet will be uploaded to this thread within every Tuesday.
The bounty campaign ends on 31st January 2019.
You will receive your tokens two weeks after the end of ICO, based on the stakes and/or tokens you've earned.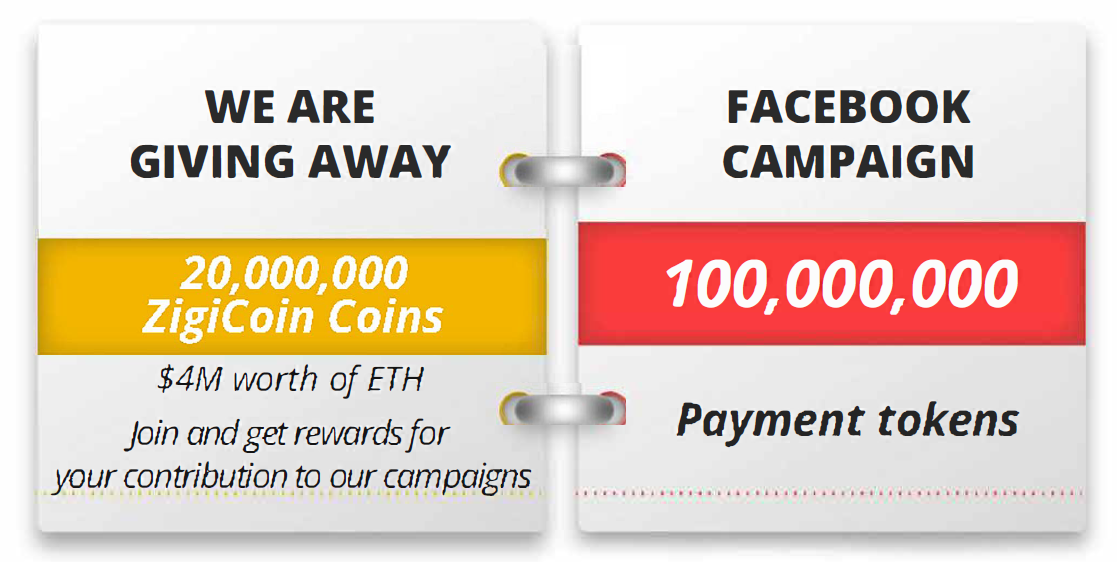 Facebook Requirements
Follow and like the official ZigiCoin Facebook page: 100 ZIGI (One-time Reward)

Participant must like and share ZigiCoin Facebook page with hashtag #Zigicoincoin: 100 ZIGI (One-time Reward)

Like our Post: 10 ZIGI

Comment (must be positive & meaningful more than 10 words): 10 ZigiCoin (There is no limit of comment bounty till you are explaining or clearing doubts of other. This means you can make 100s of comment on single post if you are clearing doubts of other visitors and you will get bounty for 100s of comments).

Like and share every post published by ZigiCoin coin using hashtag #Zigicoincoin: 2000 ZIGI (Will be calculated at the end of the ICO). (Participant profile must be public). Send reports with links to your activity to rewards@zigicoin.com every week.

Use our given logo picture as your cover picture: 500 Zigi Coin:
(Picture must be your cover picture till the end of the ICO)
(We will change cover picture every 15 days. You need to update the cover every 15 days.)

5-star Review about ZIGI 100 words Review: 500 ZigiCoin
*If reposts and shares are made without hashtags - you will NOT receive rewards.
Restrictions:
Multiple accounts registrations;

Spam, abuse and insults (You will be banned permanently);

Your Facebook account must have at 600 real friends
Terms and conditions:
YouTube Requirements
Make A YouTube Video/Review About Zigi 3 Minutes Long
15k subscribers and more [3200 ZIGI]

7k - 15k subscribers [2100 ZIGI]

1k - 7k characters [1350 ZIGI]
Restrictions
Terms and conditions:
Articles/video must be freely accessible

Article/video must be original and contain 300 words/3 minutes.

Article/video must reflect our information as stated on our support@zigi.be